It is a terribly easy matter to be a minister of the gospel and a vile hypocrite at the same time. - Charles Spurgeon
Does hypocrisy bother you? If so, you are in good company. I do not know a man or a woman who would welcome nor enjoy another's hypocrisy. In fact, Jesus openly opposed and rebuked hypocrites on numerous occasions. Matthew 23:27 states, "Woe to you, scribes and Pharisees, hypocrites! For you are like whitewashed tombs which indeed appear beautiful outwardly, but inside are full of dead men's bones and all uncleanness." In this text, Jesus calls the scribes and Pharisees hypocrites for acting overly spiritual to receive the praises of men, rather than God. The word hypocrite that Jesus uses comes from the Greek word, hypokritai, which simply means actor or one who wears a mask. Therefore, a hypocrite is someone who acts or pretends to be something that they are not. Though the scribes and Pharisees appeared to be righteous and full of life, they were just putting on a show and Jesus knew it. Jesus sees right through every hypocrite and calls them to turn from their sin.
Like the hypocritical religious leaders of Jesus' day, there continues to be many hypocrites in the church today. Though they may perform certain moral duties or be able to quote Bible passages, many are just wearing a mask while reciting lines. Romans 12:9 states, "Let love be without hypocrisy. Abhor what is evil. Cling to what is good." Christians are called to love one another while fleeing from hypocrisy and clinging to the goodness of God. Unfortunately, many have left the church because there are so many hypocrites in it. Although it is true that the church is full of hypocrites, is this really a good excuse to abandon the church? I would say not. I have heard it said, "Not going to church because there are hypocrites is like not going to the gym because there are out of shape people." Bad examples should not dissuade us from bettering ourselves. Do not throw the proverbial baby out with the proverbial bathwater. Jesus did not abandon His message because some of His followers lived hypocritically. Instead, He lovingly rebuked them and called them to repentance. So, we too should do the same.
And if we are truly honest with ourselves, we are all hypocrites. I know I am! If we wanted to get rid of all the hypocrites, we would probably have to start with ourselves. Anytime we fail to live up to God's moral standard, we play the hypocrite. Romans 7:15 states, "For what I am doing, I do not understand. For what I will to do, that I do not practice; but what I hate, that I do." In this passage of Scripture, we see the apostle Paul's frustration with his own hypocrisy. Like Paul, we must be willing to recognize our own hypocrisy and seek to rid ourselves of it. As we repent of our hypocrisy, we can better serve and follow Christ. Genuine Christ followers do not come to church because they view themselves as morally superior, rather they come because they recognize their moral hypocrisy and need of a savior. Christians do not go to church to worship one another; they go to worship Jesus. And guess what? Jesus is not a hypocrite. He never lied. He never even sinned (2 Corinthians 5:21, 1 Peter 2:22). He lived the perfect life and came to save you. It is imperative we remember that the church is a gathering of hypocrites seeking after the perfect, sinless savior - Jesus Christ.
Let us rejoice in Christ, who is faithful and true, even when we play the hypocrite!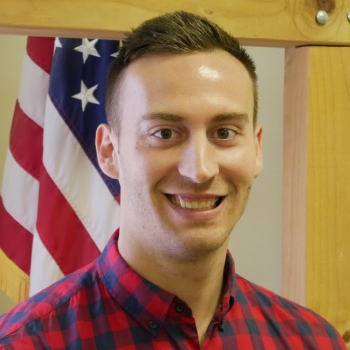 Zach Bollman, M. A.
Lead Minister
Zach began serving FICCC as the youth minister in 2014. He was licensed to Christian Ministry in 2017 where he…