Spiritual growth > Numeric growth.
Church pews. What do you picture? Maybe rows of old wooden church benches with hymnals and Bibles on the backs? Whatever the case, church pews have been a focus of the church for hundreds of years. More specifically, that the church pews would be filled on a Sunday morning with people. When church pews are filled, then church attendance is good. Dwight L. Moody once said, "Church attendance is as vital to a disciple as a transfusion of rich, healthy blood to a sick man." Church attendance is essential for faithful followers of Christ. Hebrews 10:23-25 states, "Let us hold fast the confession of our hope without wavering, for He who promised is faithful. And let us consider one another in order to stir up love and good works, not forsaking the assembling of ourselves together, as is the manner of some, but exhorting one another, and so much the more as you see the Day approaching." Scripture commands us to not forsake the assembly. God is reminding us not to skip church or abandon regular worship gatherings, because it is a place where believers are encouraged to hold fast to our hope and stir up love and good works. Thus, the church has recognized the vital need for those in their community to attend worship services and that has become an important focus of the church.
Although it is good to have healthy church attendance and it is good to invite people to church, it should not be the church's primary mission. I fear the church has unintentionally conflated The Great Commission with simply inviting people to church. Some have come to believe that if they get people to the church building, then they have succeeded in making disciples. But this is not necessarily the case. The church should encourage believers to invite people, but this cannot be the extent of our personal evangelism. As Charlie W. Shedd noted, "The problem is not that churches are filled with empty pews, but that the pews are filled with empty people." Many churches continue to fill the pews, while failing to fill the people with Christ. A church could have thousands of people flocking into their arenas every week, but if they are not coming to Christ, then the church has failed in their mission. Which means that people are leaving dead and empty.
Unfortunately, many pastors have sacrificed the living truth of the Bible for numeric growth. As someone in pastoral ministry, I know how tempting it can be to just go with the culture and preach what is popular. But pastors must remember that we cannot compromise Christ and His gospel message. The church must be committed and resolved to disciple the people that God has already given them. 1 Corinthians 3:6-7 states, "I planted, Apollos watered, but God gave the increase. So then neither he who plants is anything, nor he who waters, but God who gives the increase." The church would do well to remember that it is God, not a specific program, who will provide both the spiritual and numeric increase at the opportune time. Let me be clear, numeric growth is not a bad thing, but it can never be at the expense of spiritual growth. The small, faithful church of Philadelphia reminds us that church health is not based upon church attendance or our own merit, rather it is based upon the church's trust in Christ (Revelation 3:7-13). And this is the heart of the gospel. Galatians 2:20 states, "I have been crucified with Christ; it is no longer I who live, but Christ lives in me; and the life which I now live in the flesh I live by faith in the Son of God, who loved me and gave Himself for me." The church mission is to lead people to Christ so that they can receive Him into their lives as their Lord and Savior. When Christ is preached, people will be saved. And when people are saved, God is glorified.
Therefore, let us not simply fill the church pews with people, but let us fill people with Jesus!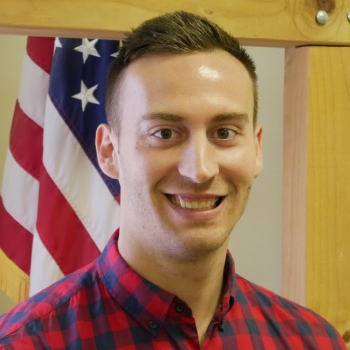 Zach Bollman, M. A.
Lead Minister
Zach began serving FICCC as the youth minister in 2014. He was licensed to Christian Ministry in 2017 where he…