Living with Purpose
August 2, 2020
►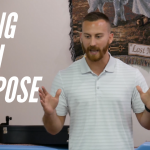 Living with Purpose
00:00
|
00:00
Psalms 37:4
Delight yourself also in the LORD, And He shall give you the desires of your heart.
I Corinthians 10:31
Therefore, whether you eat or drink, or whatever you do, do all to the glory of God.
Mark 16:15
And He said to them, "Go into all the world and preach the gospel to every creature.
The last few months have been hard. I've felt the weight and the tension of everything going on in our nation and have found myself feeling sad and anxious because of it. I'm not sure if you're like me, but when there is a lot of pain going on in the world it leads to
Read More